How to resolve the QuickBooks error code 1310
Intuit's QuickBooks is an accounting software that has been specially developed for small and medium sized businesses. This application takes care of all the accounting needs of the companies right from managing sales and income to tracking bills and expenses, generating reports, handling payrolls, track inventory and more. Over the past few years, it has gained immense popularity across the world, owing to its powerful features that as simplified business operations. Every year Intuit comes up with a new version of the software that has better and newer features to make accounting a lot easier.
Technical hurdles are not uncommon in QuickBooks, after all it is just a software. Some of the glitches can be easily fixed but for few others you need expert guidance. The QuickBooks error 1310 is one such issue that users face while installing or updating QuickBooks. When the users get the error message on the screen the entire installation or updating process is affected.
You may see the following error messages on your desktop screen when installing a new version or updating QuickBooks Desktop:
Error writing to file C:\Program Files\Intuit\QuickBooks 20xx\BusinessObjectProvider.dll
Error "1310: Error writing to file: C:Config.Msi…"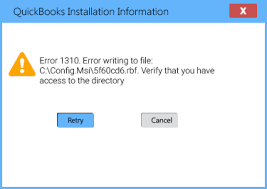 Before users try to resolve this problem, it is important to understand what causes this error.
You might also see: How to solve QuickBooks error 15222?
Causes of QuickBooks Error 1310
Below are the reasons why QuickBooks error 1310 occurs.
One reason can be the incomplete or damaged installation of QuickBooks Desktop
Misplaced or damaged data file in QuickBooks
When firewall verifies an update as a threat to the system and thus it stops from downloading of the new maintenance release.
This error also occurs if your computer's date and time settings are not done correctly
Issues with the internet connection also leads to the error 1310
If the authorization isn't done properly to make any modifications on the computer
Read Also: How to resolve QuickBooks Error code 1328?
What happens when the QuickBooks error 1310 occurs?
The error message will pop-up on screen all of a sudden
When the error occurs, it stops the update process and you will not go ahead with it anymore
You might not be able to make use of the new and improved features in the latest maintenance release
Troubleshooting can be difficult.
Read This: How to resolve QuickBooks error code 1311?
Important Points before troubleshooting
Before you try out different solutions to fix the issue you need to keep few points in mind.
Ensure that you have proper admin rights on the Windows
In order to stop the third-party applications from interfering with QuickBooks, reboot the Windows on safe mode
Try installing QuickBooks Desktop in a different Drive
For the QuickBooks installation ensure that your hard drive has got enough memory.
See Also: Methods to troubleshoot the QuickBooks error 80070057
Ways to resolve the QuickBooks error 1310
In order to resolve this error follow the below given solution in sequence:
Solution 1: Download Tools Hub and Run QuickBooks Install Diagnostic tool
Step 1: Download and Install QuickBooks tool hub
Firstly close your QuickBooks desktop,
After that download the latest version of QuickBooks tool hub and save it to on your system where you can easily find it.
Now Open the file you downloaded (QuickBooksToolHub.exe).
Double click to install the program and follow the on-screen steps and agree to the terms and conditions.
Once the installation finishes, hit double-click on the tool hub icon to run it on your system

Step 2: Run QuickBooks Install Diagnostic Tool from tool hub program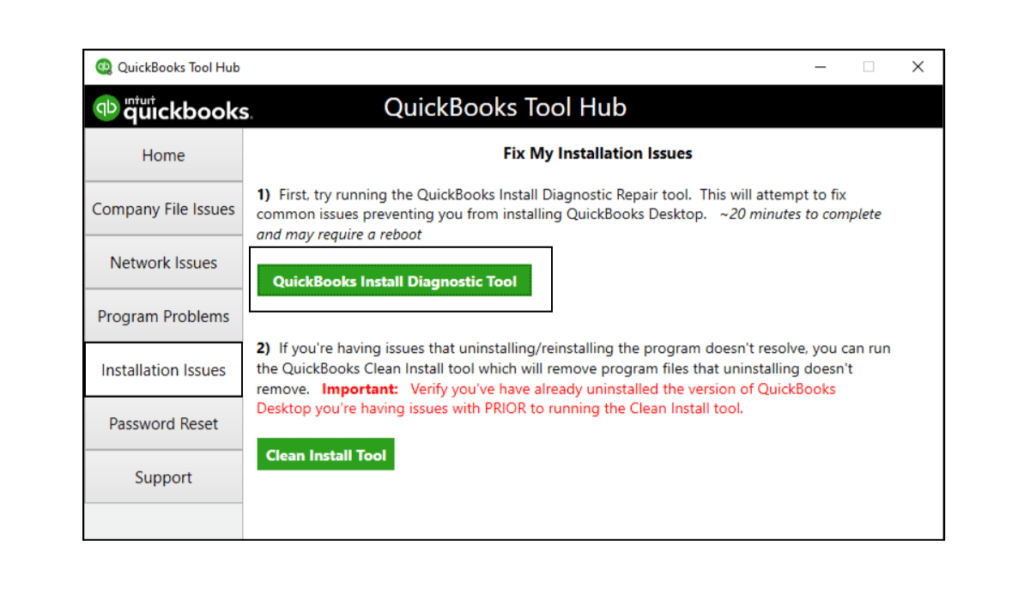 Navigate to the Installation Issues tab on your tool hub program
Now choose QuickBooks Install Diagnostic Tool option fro here
Once downloaded conduct the installation process
After that open the Task Manager and then close all the programs.
Once you are done with the troubleshooting steps of QuickBooks Install Diagnostic Tool, shut down and then reboot the system.
Solution 2: Check User Account Control Setting
The User Account Control safeguards the computer and decreases security risks for Operating System. It is important to modify the UAC settings while fixing the QuickBooks error 1310 and below are the ways to do it.
First thing to do is Press Windows + R keys together on your keyboard to open the Run tab
In the Run dialog box type Control Panel and then click on Enter tab or click the OK button
Now click on the User Account and after that choose Change User Account Control Settings.
To confirm click on Yes
After shift the slider downwards to Never Notify and this will turn off UAC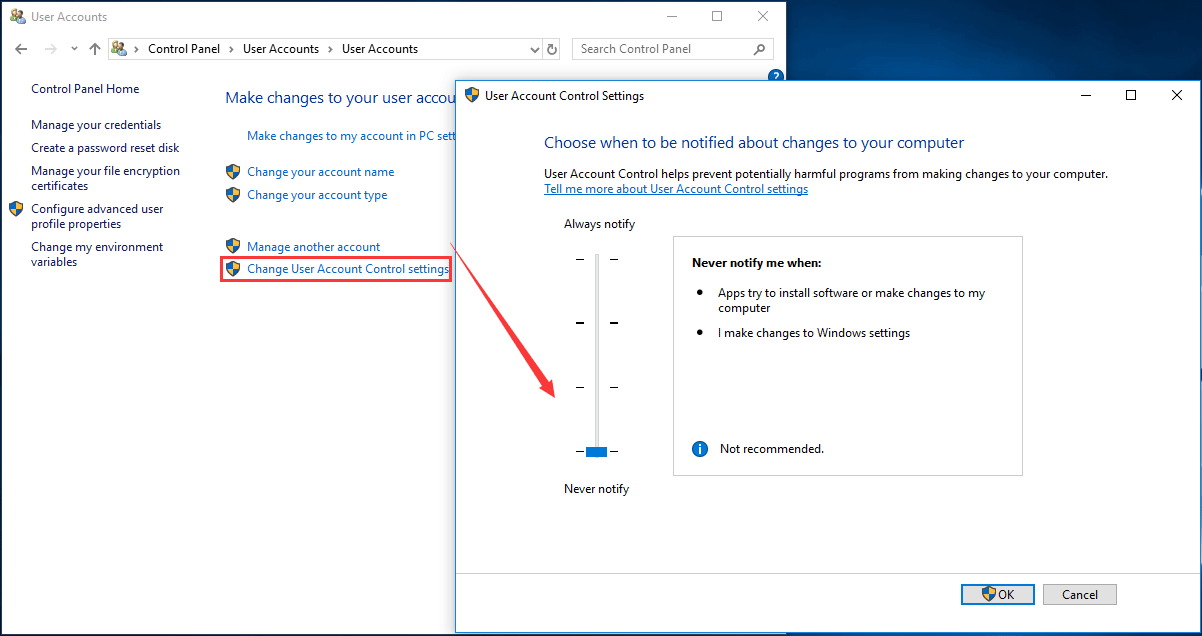 Now click on OK and then Restart the system
Once the error is resolved you have to turn on UAC to safeguard your system from potential risks.
You may also read: How to Resolve QuickBooks Error Code 77?
Solution 3: Re-register Microsoft Windows Installer
Firstly, click on the Start button on your Desktop and then type msiexec/unreg in the search box
Now click on Enter and again click on the Windows Start button
Type msiexec/ regserver in the search programs and file box
Once done, go back to QuickBooks and then try installing the update again.
Solution 4: Login as an Administrator on Windows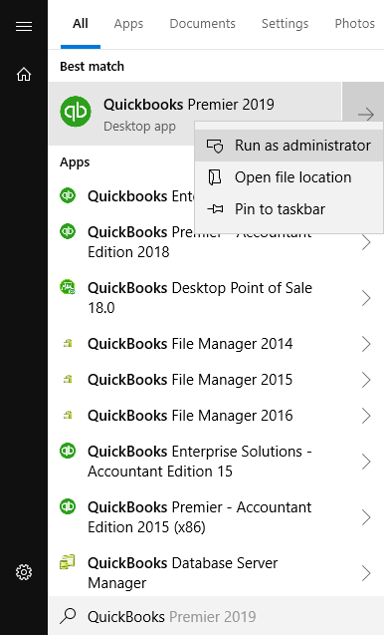 Once you login as the administrator on Windows you can easily make any modifications that can easily fix the QuickBooks error 1310. When you are trying to update QuickBooks and you will be prompted -"This action requires Windows administrator permissions" and you will be easily be able to conduct installation process of the latest one and also fix the error 1310.
Read Also: How to resolve QuickBooks Error code 7010?
Winding Up!
Fixing the QuickBooks error 1310 is easy, but if you face any kind of problem or have some query, then QuickBooks premier technical support team are always there to help you out. Or else you can get in touch with our support team via our toll-free number i.e. 1-888-351-0999. Our experts and Intuit certified professionals will be happy to help you.
Related Posts