When the user tries to email reports or transactions in QuickBooks desktop, a situation might arise where the user might not be able to log on Outlook. If the user stumbles upon an error stating "Outlook cannot log on. Verify you are connected to the network and are using the proper server and mailbox name." then this article would assist you for sure. This issue mostly appears when the user is trying to email a report or a transaction and can also be fixed easily by updating Microsoft office. To unleash the entire process to get rid of Outlook cannot log on issue, it is recommended to read this article till the end.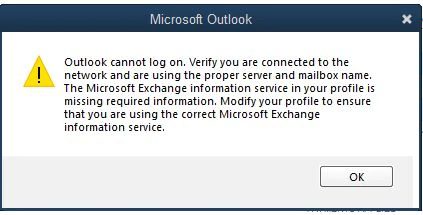 In case you are a newbie to QuickBooks or if you have zero knowledge about the technical aspects of QuickBooks, then you can simply speak to our QuickBooks ProAdvisors and ask them to carry out the process on your behalf. Immediately place a call at 1-888-351-0999, and let our experts fix the error for you.
You may also like: How to Fix QuickBooks Error H202, and H505?
Steps to update Microsoft office to the newest Microsoft office 365 release
As we mentioned earlier, the only way to get rid of this error is to update to the Microsoft office 365 release i.e. the newest release. Outlook cannot log on error can be seen due to an outdated Microsoft office. Thus, we would recommend you to carry out the below steps and get the latest release (build 12527.20242). The steps involved in this are as follows:
The very first step is to open Outlook
And then choose the File tab
The next step is to opt for the office account and then move to the about outlook tab
The user should ensure to go for the latest release of build 12527.20242
In order to update to the latest release, we suggest you to select update options
And then, click on the update now tab
The last step here is to move back to QuickBooks and try to email the report or transaction again
Conclusion!
Hopefully, the above stated steps to update Microsoft office 365 release would definitely work in resolving the Outlook cannot log on when emailing in QuickBooks Desktop problem. As stated earlier, outdated version of Microsoft office is believed to be one of the strongest reasons behind the occurrence of such an issue. Thus, the above steps might be enough to get rid of the error immediately.
Furthermore, if due to any reason, the error continues to appear or in case the user requires any sort of technical assistance, then in such a scenario, we would recommend you to have a conversation with our QuickBooks premier support team directly. You can speak to our team at our customer support number i.e. 1-888-351-0999, and they will answer all your queries immediately. Thus, do not think much in getting in touch with us at any point of time, and leave the rest on our experts. We will be happy to help you.
Related Posts